(Neon Tommy will be previewing the 2011 College Football Season throughout the summer. You can find links to each of our Top 25 previews here. Today, we preview the team ranked 11th, the South Carolina Gamecocks.)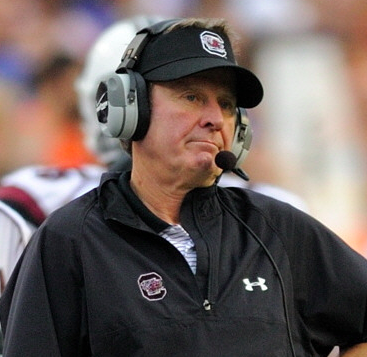 Spurrier looks to improve on his first nine-win season in Columbia. (Pbroks13 via Wikimedia Commons)

Head Coach:
Steve Spurrier (186-73-2 overall, 44-33 at South Carolina)
South Carolina's 2010 Season:
(9-5, 5-3 in SEC), Lost Chick-fil-A Bowl 26-17 to Florida State
Offensive Analysis:
-- Seven returning starters
-- Impact Players: QB Stephen Garcia, RB Marcus Lattimore, WR Alshon Jeffery
To the surprise of many, the South Carolina Gamecocks made it to the 2010 SEC championship Game, where they eventually fell to Auburn. Steve Spurrier's offense returns seven starters from that squad and is in position to make another run in the SEC. QB Stephen Garcia is back at the helm for his senior season. Last year Garcia threw for over 3,000 yards while finding the endzone 20 times. However, Garcia also led the SEC in interceptions with 14.
RB Marcus Lattimore (pictured left) also returns after a sensational freshman season in which he rushed for 1,197 yards as well as 17 touchdowns. Lattimore is also a capable threat in the passing game after totaling 412 receiving yards on just 29 catches in 2010. At receiver, Alshon Jeffery and D.L. Moore return as starters. Jeffery is the more notable of the pair after leading the SEC in receptions (88), yards (1517) and touchdowns (9) last year. Justice Cunningham will take over at tight end. The offensive line returns three starters in T.J. Johnson, Kyle Nunn and Rokevious Watkins.
Defensive Analysis:
-- Six returning starters
-- Impact players: DL Devin Taylor, DL Jadeveon Clowney, DB Stephon Gilmore
In 2010, the Gamecocks played a "Jekyll and Hyde" style of defense. Their pass defense was one of the worst in the nation, ranking 97th. Yet their run defense was elite, coming in at 12th nationally. In their nine wins, the defense gave up an average of only 15 points, but in South Carolina's losses, the total bumped up to 37.8.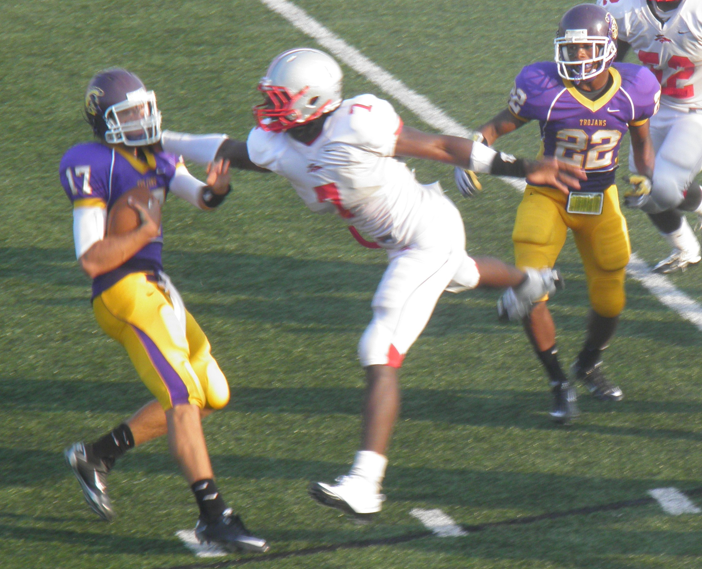 Only two starters return from a defensive line that helped make the Gamecocks' run defense so stout, Travian Robertson and Devin Taylor. As a sophomore last season, Taylor finished 2nd on the team with 7.5 sacks. Joining the group in the trenches is the nation's No. 1 overall recruit Jadeveon Clowney (pictured right, #7 in white). There has been speculation Clowney may not qualify academically, but assuming he gets his affairs in order, he will likely be a factor from the get-go for South Carolina.
At linebacker, only DeVonte Holloman returns, but he is a good one. Holloman was second on the team in both tackles and interceptions in 2010. He will be joined by Shaq Wilson and Rondey Paulk.
The secondary should be much improved this season. What was an inexperienced group in 2010 will now be the veterans of the defense in 2011. D.J. Swearinger, Akeem Aguste and Stephon Gilmore are all returning starters. In 2010, Gilmore led the Gamecocks in tackles and interceptions, and even managed three sacks of opposing quarterbacks.
Strengths:
The schedule is the envy of the SEC, and perhaps the nation. For starters, they only play four games on the road and one at a neutral site (against East Carolina in Charlotte); the other seven are all in Columbia. On top of that, they don't face LSU or Alabama in the SEC rotation, and they get both Florida and Auburn at home. The offense has a veteran QB under center and arguably the best WR/RB combo in the conference. An experienced secondary will have to lead the defense.
Areas of Concern:
Off-the-field issues (academics) could affect the availability of much-needed mega recruit Jadeveon Clowney. QB Stephen Garcia found himself in Spurrier's doghouse yet again this spring, but if he ends up in it once more, will Spurrier sit him out? The talent lost in the front seven is tough to replace, and there are concerns that the new faces won't be able to maintain the level of play last year's group attained.
Final Thoughts:
The SEC East is weak this year, at least by SEC standards. In a "normal" year, this South Carolina team probably finishes somewhere in the middle of the pack. But this year, we predict the Gamecocks will rely on experience at key positions on both sides of the ball to carry the torch and lead them to their second-straight berth in the SEC title game in Atlanta.