U.S. tennis fans should be grateful for her return to relevancy at Wimbledon
She waited through shoulder surgery in the summer of 2008. Through the ensuing layoff that lasted until spring of 2009. And through 1,001 grunts, screams and cries of "Come on!" It's taken her awhile, but
Maria Sharapova
has finally battled her way back to Grand Slam relevancy.
And thank goodness.
Not just for her. For us, too.
[+] Enlarge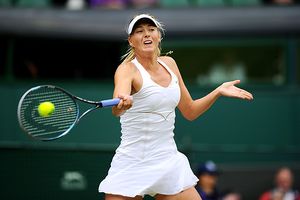 Clive Mason/Getty ImagesMaria Sharapova makes people watch in the States.
Without Sharapova, the casual tennis fan in this country wouldn't have a clue about the women's finalists at Wimbledon this year. Heck, we barely know who the best men's players are these days, outside of
Roger Federer
and
Rafael Nadal
. The women's side? I challenge you, Mr. or Ms. Casual Fan, to come up with the names, much less the bios, of the three Wimbledon semifinalists not named Sharapova.
That's not a knock on the talent level of the players. It's just an observation about who is moving the needle right now.
A quick scan of BusinessWeek's 100 most powerful athletes of 2011 shows there are no tennis players of any gender in the Top 10. Nadal had one of the most successful seasons in history and he actually fell in the rankings, from 11th to 16th. Meanwhile, the most powerful American tennis player hasn't played much tennis in a year and turns 30 in a few months, which is pretty old for this sport. I love
Serena Williams
-- and her sister -- but tennis won't be able to depend on them very much longer because, well, they won't be around very much longer.
If you thought America's interest in tennis waned when Andre Agassi retired, wait until those two go.
The Williams sisters' popularity boosts the prime-time broadcasts of the U.S. Open women's final when one (or both) of them are playing, according to Nielsen. It snagged a 7.2 rating in 2002 when Serena beat Venus in straight sets. But those kinds of numbers are as good as over now, unless a new, marketable face can come in and take their place. Last year's final between
Kim Clijsters
and
Vera Zvonareva
drew a 1.9, and that was an upgrade from 1.1 in 2009 for Clijsters' match against the current No. 1 player in the world,
Caroline Wozniacki
.
Speaking of Wozniacki, BusinessWeek listed her as one of the top five athletes to watch this year. She's obviously talented -- and attractive -- but she still hasn't won a major title. America likes to root for the underdog; but when you're the No. 1 player in the world and you can't win the big one, you aren't an underdog.
[+] Enlarge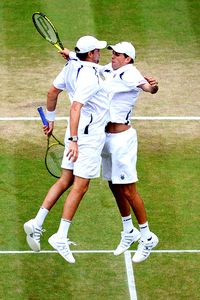 Clive Mason/Getty ImagesThey chest-bump during matches. What's not to like about Bob and Mike Bryan? (Other than that they play doubles, that is.)
You're a loser.
And America hates those.
Which is why women's tennis needs Sharapova to play well at Wimbledon and then keep on playing well, especially in the Slams. The more she shines in the biggest moments, the more we'll tune in to see her. She was born in Russia, yes, and -- when she plays in it -- she competes for Russia in the Federation Cup; but her game, her brand, her story is all America. Sharapova and her father arrived in Florida when she was 7; they didn't speak English and had $700 to their name. That she's become an international superstar after that start is the kind of narrative we love, which might help explain the 3.2 rating she drew when she beat
Justine Henin
to win the U.S. Open in 2006. That's the highest-rated women's final (not featuring Serena) at the Open since 2002.
That number isn't great, but it might be something to build on.
Because she's only 24, there's time to build a sport around her. And considering that Nike reportedly just signed her to a $70 million deal, I'm obviously not the only one who thinks so.
But she's got to win so her popularity isn't just based on camera commercials, short skirts and long blonde hair. Those things aren't going to help tennis. They'll help her bank account -- Anna Kournikova, anyone? -- but not the sport. And it's tennis' popularity in America that really needs a bailout.
While the Williams sisters are the most powerful American tennis players, according to BusinessWeek, the Bryan brothers, Bob and Mike, are actually the most dominant. They own the doubles record for the most tournament wins, they've appeared in seven consecutive Grand Slam Finals, they have a combined 29 major titles ... and they're nowhere to be found on the Power 100 list.
Why?
It's doubles. We don't really care.
We
should
, but we don't because Americans don't relate to pronouns such as "we" and "they" when it comes to tennis. We barely use them when it comes to team sports -- basketball and football -- preferring to concentrate on the quarterback or whoever the best player is. So arguably the best team the tennis world has ever seen wallows in obscurity here at home -- a sad indictment of our sports pedigree, but it is what it is.
[+] Enlarge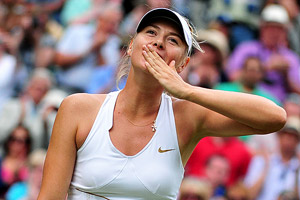 Leon Neal/AFP/Getty ImagesSharapova's story has an undeniable appeal.
Federer derailed Andy Roddick's glory years ago; and while Mardy Fish's late-career resurgence has been inspirational, the move to greatness seems out of his wheelhouse -- like it's proved to be for
James Blake
,
Sam Querrey
,
John Isner
et al. Remember back in the 1980s and 1990s when America's love for the game coincided with as many as five countrymen residing in the top 10? We had big personalities and big wins, and it felt as if our dominance would last forever. But like with basketball, the world has caught up and, in many ways, passed us. And as players from other parts of the world began hoisting the trophies and owning the records, well, we sort of took our rackets and went home.
Understandably so.
There are only five U.S. men ranked in the top 100 right now, and they have only one slam among them.
There are only six U.S. women in the top 100 right now; and if the Williams sisters were to walk away today, the remaining players would have a combined total of zero weeks in the top 10.
The future of professional tennis is bright around the world, but not in the United States. Not right now. I'm sure at some point, a new women's star will emerge, a legitimate U.S. winner like Jennifer Capriati or Lindsey Davenport; and when she does, we'll come back to the sport.
Until then, we can watch the Russian with love. Thank goodness she's back.