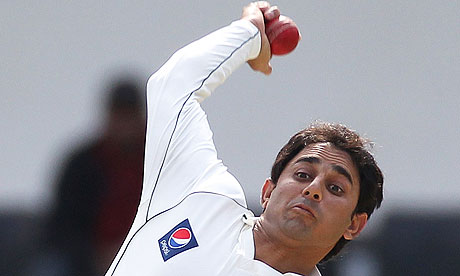 Once, wondering along Bourbon Street in New Orleans, I met a magician. He was busy fleecing a throng of half-cut onlookers, plucking their wallets from their pockets and pulling pennies from behind their ears while he dazzled them with his slick schtick. I stopped to watch, and he spotted me for a sceptic. It must have been the cocked eyebrow that gave me away. "You're not easily impressed, sir?" he asked. I gave him a wary grin. And with that he took off his hat and slapped it down on the empty table in front of him. When he picked it up again, a watermelon appeared.
I was flummoxed. The fruit, after all, had been nowhere to be seen a split second beforehand, and was twice the size of his bowler. He raised his eyebrow back at me and shot me a smile that had the slightest hint of sneer in the way it curled upwards at the edge of his lip.
And so to Saeed Ajmal, the man so memorably described in these pages by Barney Ronay as
a "waddling doosra-goblin"
. Ajmal, as everyone who has strayed anywhere near the back pages in recent weeks will know, swears he has perfected a new delivery – the teesra – which he was promising to unleash at some point against England in this series.
At first the English reaction to Ajmal's threat was akin to mine when I was confronted by the conjurer: before he came on to bowl they were rolling their eyes and offering sceptical seen-it-all-before smiles. "All the spinners that come up with these 'balls' so to speak, the names are highly unoriginal and not impressive, but the 'teesra' is a stroke of genius," said Graeme Swann with a chuckle. "Let's face it, as an off-spinner you can have a ball that goes one way and one that goes the other and one that goes straight on." Such straight talking. It was a little like Isacc Newton "unweaving the rainbow", which is what John Keats accused him of doing when he split white light into the colour spectrum.
The English media too, were suitably sceptical. And understandably so, given how often we were hustled by Shane Warne, who has long since admitted that most of the new deliveries he swore he had developed before each series were just so much hokum. The most infamous these was the Zooter, which was just a regular old straight delivery. For what it is worth the 'teesra' – or the third one, following as it does the doosra, which translates as the 'other one' – does exist. Or so they say.
"I have played his delivery in the nets," swears Ajmal's teammate Mohammad Hafeez. "I can't tell more about it, he can better tell you. You will judge it when he bowls that, I don't want to reveal that. He has this new weapon and has command over it." Even Pakistan's captain Misbah-ul-Haq couldn't resist playing along: "He has just developed another delivery and bowling that very well. Let's see how England batsmen tackle." Of course there is a little, OK a lot, of kidology to all this. 24 hours ago the idea that any of England's batsmen are so very mental fragile that such talk would cause them to be consumed with self-doubt is a little laughable. But after their collapse in the morning, it doesn't seem quite so funny.
The teesra was used by Saqlain Mushtaq in the days after his international career was over.
He called it the Jalebi
, or sweet. It is, Saqlain says, bowled with something almost a leg-break action, and the ball is flicked with the middle finger as it is released. In theory it floats on to a fuller length than the batsman is expecting and then skids with a little extra pace straight on off the pitch. A little like a flipper. He once bowled Russel Arnold with it in a match in the ill-fated and unofficial 20-over jamboree that was the Indian Cricket League. And that, so far, as the record shows, is as much success as he ever had with it.
As mystery balls go, it has nothing on the famous double-bounce delivery
supposedly perfected by the Sri Lankan spinner Pradeep Mathew
, which was said by the few who have seen it to have pitched on off, turned to leg, pitched again and broken back to the off (
read more about it here
).
Having seen Ajmal bowl in this match, the English expressions are now a little closer to the one I was wearing when I saw that watermelon. Ian Bell fell for a golden duck to a perfect doosra, and was left staring slack-jawed at the place where the ball had pitched. And Strauss was made to look like a rube by a ball that could just have been that teesra. It floated up fuller than he thought, which would explain why he thought he could pull it, and then it skidded straight on. Some of Sky's commentators were convinced it was the teesra. Plenty of others dismissed it as an off break that didn't turn. Later in the day Mike Atherton thought he had identified another ball, fuller and faster and delivered round arm, that was the one Ajmal had been working on.
Whether you buy into it or not, we're all baffled. I've long since given up trying to figure out how the conjurer did his trick with the watermelon. After innumerable hours spent fruitlessly trawling chatrooms online I resigned myself to the fact that I was beaten, and told myself that life is richer if you leave room for a little magic here and there. England, unfortunately for them, don't have that luxury.
MEANWHILE, IN OSLO …
The Spin rose with a shiver this morning, rolling out of bed at 5am to stumble down to the office in time for the start of play in the first Test between England and Pakistan. After the mild mid-winter the cold snap has struck, meaning that I'll have to break icicles off the keyboard and scrape the frost off my computer screen before I can start work on the season's over-by-over reports. Before we all start feeling too sorry for ourselves though, we should spare a thought for the XI intrepid members of Captain Scott's cricket club. Even as this week's Spin email landed in your inbox they were taking to the ice in Oslo, where it is currently seven degrees below zero, to play a game against an Amundsen XI in commemoration of the 100th anniversary of Scott arriving at the South Pole.
If you've read
Harry Thompson's Penguins Stopped Play
(and if not, why not?) you will know all about the Captain Scott XI. Thompson, author of the brilliant This Thing of Darkness, founded the team a few years before he died of lung cancer. Their latest match is designed to raise funds for the Roy Castle foundation, as well as Cricket Without Boundaries, who do such sterling work raising Aids awareness in Africa.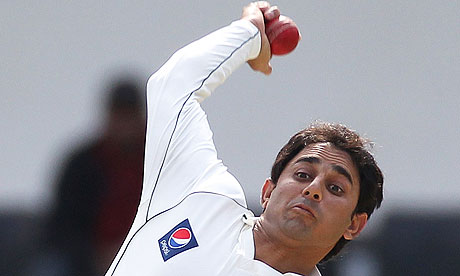 As Captain Scott XI member Gareth Wilson puts it: "Knowing we've contributed to their cause will hopefully give me a warm feeling inside when standing down at fine leg for 15 consecutive overs while suffering from mild hypothermia as a result of exposure to the freezing conditions in Oslo."