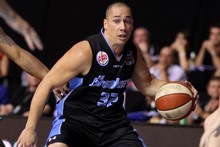 Paul Henare doesn't believe in fairytales or storybook endings. He doesn't buy into the school of thought that him going out a winner after eight years as a Breaker is meant to happen; that there is some kind of mystical symmetry or pre-destined numerology in him bringing up his 250th and final game at home in a title decider.
He thinks the Breakers will claim their first title tonight, certainly. But he thinks they'll win because they deserve it - because they've earned it.
"I don't believe in destiny, I don't believe in fairytales," Henare said. "I've had comments from certain people saying 'it just seems that it is meant to be'. I don't believe in that. You have to go out and work and earn everything.
"That's who I am as a person, who I am as a player. You have to put the hard work in. And for us a team, that is when we have been at our best. It's not when the offence is pretty and all the shots are going down, it's when we are knuckling down, playing defence and rebounding, doing all the hard yards sort of stuff. "That is when we are playing our best and that is what we'll need [tonight] to beat Cairns."
While the Breakers' title hopes were thwarted, at least briefly, by the Taipans' game two escape act, for Henare it meant a stay of execution of the termination of his playing career. The realisation that it would definitely be over at the end of tonight hadn't yet fully sunk in.
"I've still got a grand final to focus on so there are no nerves or anxiety about it being my last game," he said.
"I couldn't ask for a better way to go out. Dare I say it, win or lose it has been just a great ride. Yes, it would be the storybook ending to finish off with a championship and myself and the team will be doing everything they can to make sure that happens."
The Taipans have done their best to heap the psychological pressure on the Breakers, continually espousing the theory that only one team has something to lose. Henare doesn't buy that any more than he does the destiny theory.
"There is no other place we would rather be, playing at home and playing for the championship is a good place to be," he said. "They have as much pressure on them as we do on us. They have been in the league longer than us without a title and they have got some pressures at home with people wanting them to bring back the trophy.
"For us, we want to be here and we expect to win. This is what we have been aiming for the whole season. For eight years we have been aiming for this."
Henare may not believe in fate but Kevin Braswell, the player who will interchange with him at point guard tonight, certainly does.
"For Paul Henare, for his family, for this organisation, to win the championship here, that would be the Cinderella story," Braswell said. "He deserves it. His whole family deserve it. They get to see his last game here. He's been here since day one, that's going to be the biggest thing to winning this game on Friday. We are all going to be feeling it.
"We wanted to win it in Cairns, trust me. But it didn't seem like that when we watched the video. It didn't seem like it was that important to us. This game three will be desperation time for us."