CHARLOTTE, N.C. -- As he was hitting from between two cabins that nobody ever dreamed were in play or making a mess of the par-3 12th hole at Augusta National or slumping in despair after a wayward tee shot, Rory McIlroy was on his way to Masters infamy.
By squandering a four-shot, 54-hole lead last month at the Masters, the Northern Irishman suffered the biggest meltdown of a third-round leader in 15 years -- since Greg Norman blew a six-shot advantage.
So who better to discuss dealing with such a calamity than the Great White Shark himself.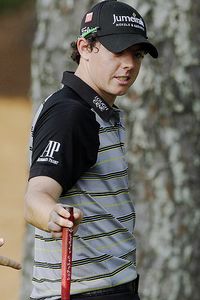 AP Photo/Chris O'MearaRory McIlroy struggled through his final round at the Masters, probably no where more than his triple-bogey 7 at the 10th hole. But as the Northern Irishman pointed out, he did lead the year's first major for 63 holes.
"I had a good chat with Greg Norman the week after, when I was in Malaysia," McIlroy said.
His advice?
"Don't listen to you guys."
Ah, stay away from the media. McIlroy, 21, smirked, but went on to share Norman's wisdom.
"He sort of just said to me, from now on, don't read golf magazines, don't pick up papers, don't watch the Golf Channel," McIlroy said. "But it's hard not to. Obviously you want to keep up to date with what's going on. But you can't let other people sort of influence what you're thinking and what you should do.
"I've taken my own views from what happened a few weeks ago and moved on, and that's the most important thing."
McIlroy is making his first U.S. appearance since the Masters at this week's Wells Fargo Championship, where he is the defending champion at Quail Hollow Golf Club.
A year ago, it was all good, as McIlroy made the cut on the number, shot a third-round 66 to get back into the tournament, then roared to his first PGA Tour victory by shooting a final-round 62 that included six consecutive 3s to close out his round -- as he won by four.
He was ahead by four at Augusta then saw it all unravel, as a slew of players made a Sunday charge. By the time McIlroy reached the 10th tee, he was still tied for the lead but clearly shaken by some uneven play. His drive that bounded off a tree and into the yard of the Augusta cabins alongside the 10th hole -- it is not out of bounds -- led to a triple-bogey 7. He four-putted the 12th green then hit his tee shot into the creek at the 13th.
McIlroy shot 80 and ended up 10 strokes behind winner Charl Schwartzel.
"First thing, I don't think I was ready," McIlroy said. "That was the most important thing. I displayed a few weaknesses in my game that I need to work on.
"But I think you have to take the positives. For 63 holes, I led the golf tournament, and it was just a bad back nine -- a very bad back nine that sort of took the tournament away from me, I suppose. But what can you do? There's three more majors this year and hopefully dozens more that I'll play in my career."
Therein lies the huge difference with Norman, 56, who was 41 at the time of his Masters blowup and already had dealt with plenty of major championship heartbreak.
Although Norman didn't shoot as high of a score, he basically had only one player to beat -- Nick Faldo -- and shot 78 to lose by five.
"I knew exactly how he felt," Norman told the Australian Associated Press about McIlroy. "I've experienced it. What is it with golf destiny? Isn't it strange?
"It taps you on the back of your head and it either pushes you ahead or pushes you back. What determines that? It's crazy."
Like Norman in the aftermath of his defeat to Faldo, McIlroy handled his loss with class.
He did several interviews afterward and didn't make excuses. He said he'd be better for it -- and has universally received praise for the way he handled the situation.
Then he got on a plane and made the long trip for a long-ago-made commitment to play the Malaysian Open -- and nearly won. McIlroy finished two strokes back of Matteo Manassero.
It was there that he played the first two rounds with Martin Kaymer, who two weeks ago dropped to No. 2 in the world behind Lee Westwood. Kaymer won the previous major championship, at the PGA, but came from behind to defeat Bubba Watson in a playoff.
"The big advantage was I didn't have to sleep over it," Kaymer said. "I didn't have to listen to ... how big it would be and all the pressure that you will approach the next day. I didn't have to deal with that.
"You know, he's only 21 years old, and I think it's easy for people to forget ... he's so young and the stuff that he did, the way he plays golf, it's been unbelievable. Yeah, he didn't play well the last round, but that happens. He will win plenty of tournaments, maybe a few majors, but that was probably the biggest difference, that I didn't have to deal with that at the PGA."
Aside from being asked about it, McIlroy said he is doing his best to put the Masters behind him. He has spent some time already this week working with putting guru Dave Stockton Jr. and is looking forward to a busy stretch of golf that will see him return to Europe for two events, including the BMW PGA Championship, before coming back to America for the Memorial and then the U.S. Open.
"I'm fine," he said. "It was a great chance to win a first major, but it's golf. It's only golf at the end of the day. No one died. Very happy with my life, very happy with what's going on, very happy with my game."